The housing association has an electric passage system (Aptus) with door phone. The door phone is also used to open the entrances from the yard with a key tag.
To connect a phone number to the door phone, complete contact information is to be sent to the association's economic administrator.
Information to include:
Connected phone number
Apartment number
Full name
NOTE! Phone numbers belonging to children below the age of seven cannot be registered in the door phone system
How to use the door phone
Between the hours of 06.00 and 21.00, calls can be made by searching for the name of person one wishes o visit and press the button to make a call.
Outside of these hours, the full connected phone number must be entered, followed by the OK button.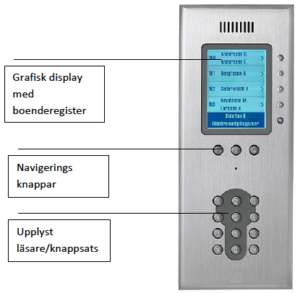 How to respond to a call from the door phone
Reply to the call and double-check that it is your visitor
To allow entrance: Press the star key (*)
To deny entrance: Press the hashtag/number sign (#)
Settings in your own phone
The door phone communicates through the telephone system and your phone must be DTMF/TouchTone enabled for the system to work. For certain wireless phones this function must be manually enabled, please see your phone's user guide.
For certain smartphones, you must push a keypad button to show the number display before you can choose the star key (*) or number sign (#).